Professional Health Coaching
What is Health Coaching?
Health coaching is a client centred partnership between the coach and the client to develop a process for change that mobilises the strengths and realises the potential of the client. Through the coaching process the client will identify their own goals that are achievable and in alignment with their values and desires for a healthy lifestyle.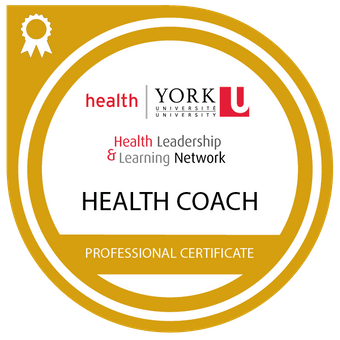 Health Coach Training?
York University's Health Coaching Professional Certificate Program. This course is the first and only National Board for Health and Wellness Coaching approved training program in Canada. This training is only open to regulated health professionals with an active licence.
Why Does This Matter?
Health Coaching is an emerging and unregulated field in Canada. Quality assurance is essential to ensure that our program and our trained health coaches meet an industry recognized standard. There are various organizations who offer accreditation but only one organization uses standards rooted in health coaching science and evidence-based practices. The National Board for Health and Wellness Coaching (NBHWC) aligns with York University's health coaching principles, and has accredited programs from Mayo Clinic, Georgetown University, Duke University, and other academic institutions. NBHWC-approved training programs have met the requirements of an extensive application and review process.
Is health coaching covered through my extended health benefits?
Health Coaching is not commonly covered at this time through extended health benefits. We do encourage each client to confirm with their provider.